We Analyze the Axe Cop Wondercon Trailer
Axe Cop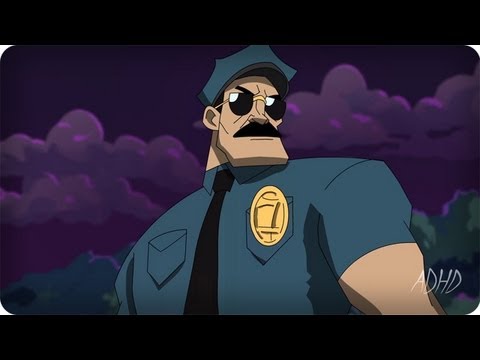 So in this still we are introduced to the man, the myth, the legend. Mr. Axe Cop! We are automatically given this larger than life character that is sure to strike fear in the hearts of bad guys anywhere. One of the coolest things about Axe Cop is that his sunglasses are SO dark that not only can you not see his eyes, but you wonder if and when they will ever come off.The reflection on the glasses look almost like cat eyes, but if nothing else it shows that this thing isn't going to be all fun and games…
Ego

Similar to Anchorman, Axe Cop uses this opportunity to look at himself in the mirror and admire the fact that not only does he have a mustache….but that he has a MOTHERFUCKING mustache! He's definitely the guy (again similar to Burgundy)that calls people over to help push over his ego despite the fact that his job is probably calling him. To quote another world famous cop, 'There's a crime happening somewhere!'
Zombie Island

Zombie Island is an island in space filled with zombies….duh
Villains

Axe Cop is fighting an arch nemesis named Dr. Doodoo. What's great about this is you would think DooDoo would be too small to pose any serious threat to someone as big and menacing as our titular hero. However, we are learning in this scene that these villains have bark that is just as bad ass as their bite, so it will be interesting to see how these battles end!
Other notes about the WonderCon premier include the number of guest stars set to go along with the already stellar cast lineup.  AMC Network seems to be the name of the game with notable names like  Giancarlo Esposito (Breaking Bad, Revolution) who plays Army Chihuahua, Breaking Bad's Jonathan Banks plays Book Cop and Jared Harris (Mad Men) voices the evil King of England. In addition, Peter Serafinowicz (NTSF:SD:SUV) will provide other additional voices.
Axe Cop is all new July 27th on FOX Starting @ 11pm EST as part of an all new Animation Domination HD lineup and you can check out the WonderCon trailer here.  No one"s been writing more about this show than we have, so keep it locked here!