Exclusive Interview: The DC Animated Universe at NYCC 2014!
Man, you are all going to be surprised with how the DC Animated Universe is coming along.  We sit down with the people in charge of the DCAU to see what direction their upcoming release is taking.
Think about this one question for a second: What character in either the Marvel or DC universe is considered a complete joke? If your answer isn't Aquaman, you're doing it right. Luckily for you, DC is trying to rectify that with their upcoming release, Throne of Atlantis. We had a chance to sit down with voice director extraordinaire Andrea Romano, screenwriter Heath Corson, producer James Tucker, and the star Matt Lanter to get insight on why Aquaman isn't the loser we have been accustomed to.
The key to fixing the stigma of Aquaman is a kickass introduction. Aquaman hasn't been introduced in any of the past DC animated movies, and for good reason. Heath Corson, the screenwriter for Justice League: Throne of Atlantis, had this to say about Arthur Curry's intro into the animated feature's Justice League. "It's a story of a man, with his father, in a lighthouse, on a cover, who's always been connected to the water, but has no idea of his Atlantean heritage. So, he's angry. He's a man who knows he's alienated, and special, and he doesn't know why. He's mad about it. So we open right after his father's funeral, where Arthur Curry is drunk, at a seafood restaurant, pouring his heart out to a lobster in a tank. And this is Aquaman Begins."
Think about it for a minute. To make a character like Aquaman look like a legitimate partner to the likes of Batman and Superman, you need to give him a story where he just takes charge and beats some heads. This is the moment they were waiting for, and the rest of the Justice League is in tow to welcome Aquaman into the fold after taking back Atlantis. He doesn't start out the egotistical man he has been in other iterations of Aquaman's past. Corson goes on to say, "This is Arthur Curry realizing who he is and taking steps to become a hero. So, that was my way of being able to do that, because this is not the man who shows up on land in Justice League going 'Who should be in charge? I choose me.' Because he isn't that guy yet."
Corson then reflects a bit on how Throne of Atlantis came to be. "I know, that when I was doing the outline for Justice League: War, the lineup kept changing. And finally, they told me 'No Aquaman. we're saving him.' I was like 'Ooo! I want to write that one!' And I got to do that, and the plan was to give him the spotlight.
The next step is to get the right person to voice Aquaman. If Andrea Romano with a voice similar to the Robot Chicken DC special, than nothing would be done to fix the perception of Aquaman. Romano had this to say about Matt, "But on this one, I said, 'I think Matt's the right guy.' I like to fight for the rank and file of the voice actor if they're right for the job."
When Andrea Romano says he's the right guy, just go with it. She did give us Mark Hamill in his second iconic role as the Joker. She was the one who also brought Seth Green to the Teenage Mutant Ninja Turtles, as well as worked on shows like Tiny Toon Adventures, and a personal favorite, the 2011 Thundercats reboot. So, she knows quality. Andrea even told us the story of how Mark Hamill came into the role of The Joker.
"Way back when, I got a call from Mark's agent, saying 'Mark Hamill hears you're doing this brand new series, Batman: The Animated Series. He's a huge comic book collector, and a huge Batman fan. Will you consider him?' Absolutely. Within two weeks, I had him in to play a guest roll. And he did a great job. And then he came over to after the session and said, 'This was great. Thank you so much. I know my agent reached out to you, and thank you for responding. I do want to be a part of this series. I want to be a part of this series. Meaning, I don't want to do a guest role.' And it just so happens that we needed to cast The Joker, and the rest is history." Only time will tell if Andrea Romano hit paydirt again with her newest casting, Matt Lanter.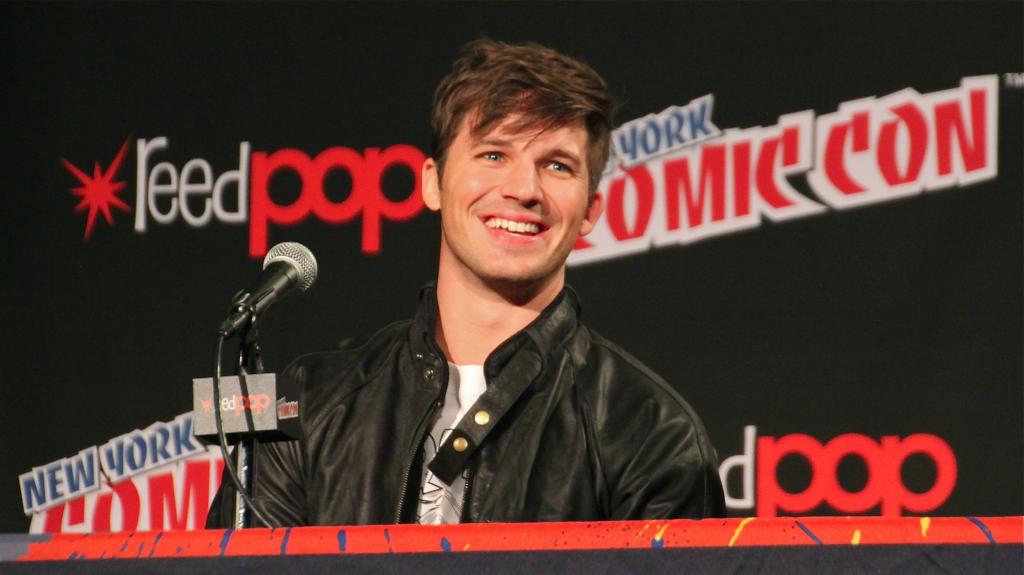 Matt Lanter was Andrea's first and only choice, and with good reason. His work on Star Wars: The Clone Wars as Anakin proves he has the ability to carry a project, and be a lead. When we sat down with Matt, he brought a pretty good outlook to Aquaman. "When someone asks you if you want to play a superhero, you just say yes. I know Aquaman gets a lot of heat for not being real cool. Hopefully, that's one of the things that this film can do, make him cool again." He continues on, saying "Yeah, I approached him (Arthur Curry) as less of a superhero, and more of a person who's dealt with some tragedy, and is dealing with tragedy. He's got a lot of inner anger going on. It's more about being Arthur Curry, the guy who is down and out, than it is being Aquaman."
Now, when Justice League: War came out, it brought the New 52 reboot to the DC animated universe. The updated look and a defined cut in the continuity opened up so much in terms of what Warner Bros. and DC can do. The production no longer has to feel like they have to do stories like Doomsday or The Dark Knight Returns. While those stories were great in their own right, there are newer stories that can get their time to shine, like a movie loosely based on Court of Owls or Superman: Doomed.  Heath Corson echoes this statement, saying "We want to do something different, because otherwise there's no reason to buy this movie and go watch it."
To close out, James Tucker had this to say about the New 52 and how it influences the Animated Universe: "We used that (the New 52) to jumpstart what we're doing, because it was a jumpstart. It got a lot of press. It was popular, and it was unpopular. So we used that for our origin story, and to start our new universe. But we're not tied to what they're doing now. I mean, who can keep up?" Tucker elaborated more as to what their intentions were with how they're going forward with the movies. "So, we will be doing a mixture of some adaptation, some original stories, and maybe pulling characters from the New 52. We can do storylines from before the New 52 as well. So, it will be its own thing."
This is fairly well represented in the future releases coming down the pike after Throne of Atlantis. After Throne of Atlantis, Batman vs. Robin and Justice League: Gods and Monsters fill out the DC animated movie slate for 2015. Batman vs. Robin will be a very loose adaptation of the Court of Owls story, and Justice League: Gods and Monsters will be an original movie based on a story and character designs by Bruce Timm. Gods and Monsters will also have an accompanying three-part animated series on Machinima. These are exciting times with the new DC animated universe, and it looks like the New 52 is doing remarkable things for the animated universe of DC Comics going forward.
Just to whet the appetite, here's the trailer to get you ready for this early January release. If the trailer doesn't get you hyped for the movie, what will?